Band Members > The Hunk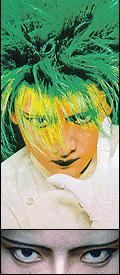 Name: Den
Real Name: Hiroyuki Oonishi
Date of Birth: June 10, 1970
Blood Type: O
Birthplace: Osaka
Position: Bass
After BY-SEXUAL: Performed in Sister's No Future for a while and then went to join Zigzo with Ryo.
Currently: In test-No. with Ryo and now a support member of machine.